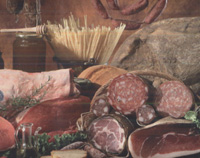 Tradition, land, culture: these words circumscribe Siena and Tuscany, always considered an icon of eating well, among rare
cold-cuts
, delicate
cheese
, tasty
desserts
and very good
wines
, all rigorously local products, which make this land's
wine and food
palatable and natural.
Cold-cuts
– Typical of the province of Siena are the "
Sienese cinta
"
cold-cuts
: the ancient origins and the breeding in the wild, let very pure meat to be obtained, and very good salamis and hams, having a strong flavour and a thick taste. Don't  forget about the Tuscan "rigatino", very peppery, the Tuscan Dop ham, garnished with natural aromas, the Tuscan salami and the "
capocollo
", not to mention the Sienese flank steak.
Pork
, and not only, very good cold-cuts are also those obtained from wild-boar meat, which we find in Tuscan countryside.
Cheese
– A still living tradition, this is definitely the secret to make a very good cheese, especially the Tuscan one, in which the production phases have kept unchanged during the years. The
sheep milk's cheese
made in Sienese hills, having a yellowish colour, is produced by using the same tools as in the past, the Pienza one, instead, is matured in big barrels which give it a tannic aftertaste, the one which is matured in walnut leaves is deposed to settle in terracotta ovens.
Oil – Another main ingredient in Tuscan food is green gold, oil, an unmistakable product because of his golden colour and the unique taste. In Siena is a high-quality production, with two Dops, Classical Chianti and Terre di Siena, and a Tuscan lap.
Desserts
– Strong tastes but also
sweet temptations
, first of all the panforte, created in honour of Queen Margherita when Savoia royal family went to Siena to see the Palio, having a special mix of aromas and nuts, which make it chewy. How could we forget about the "ricciarelli", small almond-flavoured delicacies dusted with icing sugar. While in November the windows of confectionery shops fill with Pan Dei Santi, a sweet bread basically made of nuts and raisins. But at the end of every ad hoc meal cantucci can't miss, consisting in anisette biscuits with almonds, perfectl to be matched to a very good
Vin Santo
, which is drunk as a dessert wine; among the best, the Chianti Dop and the Montepulciano.
Wines
– From the table to the cellar: Tuscany is worldwide known for its excellent quality of bottled wines, and boasts a really very wide
wines
range.  Some names as
Brunello di Montalcino
,
Classical chianti
,
Vernaccia of San Gimignano
,
Nobile of Montepulciano
, and many more are like a business card, deserving the greatest respect.
And doubtlessly, an important role for the promotion of the Sienese food farming is given by the Chamber of Commerce.
Prodotto realizzato all'interno del Progetto di Valorizzazione dell'agroalimenatare senese 2009 promosso dalla CIA di Siena e cofinanziato dalla CCIAA di Siena.

CLICK HERE FOT THE ITALIAN VERSION