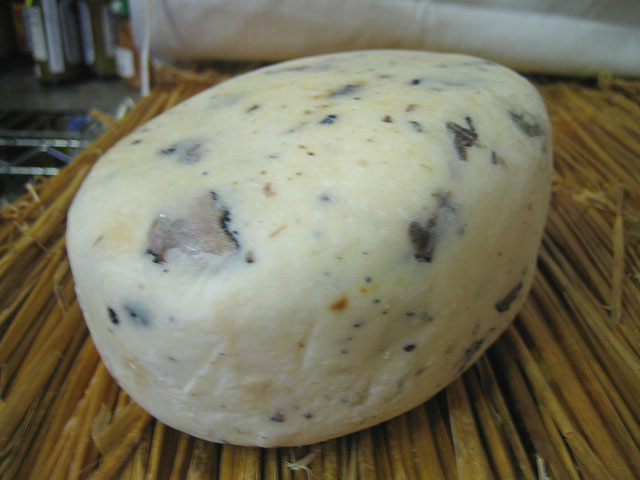 Pecorino from Sienese Hills (photo 1)
Pecorino from Sienese Hills has a cylindrical shape with a weight ranging from 1 to 2 kilos. Its paste has a yellowish colour and is different if cheese is fresh or seasoned. The former has a soft sweet paste; the latter is more crumbly and spicy. Produced in Siena province, it's a cheese which keeps old traditions, including the use of transformation techniques and tools which have kept the same for years. This sheep milk's cheese production is made after taking the milk in the morning, then it's curdled and hand-worked. The seasoning takes place obligatory on fir wood boards. The production is made from March to August.
Raw Milk Pecorino from Siena's province
It's a sheep milk's cheese with a classical shape, produced in all Siena province exclusively from sheep's milk having a minimum of fat substance of 26%. Its weight of about 1.5.kg distributes in a diameter of 16-18 cm. and a height of 8-10cm. The rind, refined with olive oil, has a natural colour, while the colour of the paste ranges from white to very light yellow. Raw sheep milk's cheese from Siena province has a sharp flavour, a salty taste with typical features. A typical traditional product, it's famous for having been the main food in farmers' families during the last century and for the typical milk obtained by sheep's pastures and its following transformation process. A working that still today goes on following the old tradition with a quick working of the milk, which takes place by thirty-six hours afters it's milked, and with a seasoning on wooden boards for a minimum time of sixty days.
Pienza's Pecorino seasoned in big barrels (photo 2)
Round shape and flat faces, Pienza Pecorino is seasoned in big barrels and has a diameter of 14-16cm. and a smooth white rind with violet shades. While its height varies from 5 to 12cm. its paste is smooth and has white colour tending to be yellowish. Its weight can vary from 900g. to about one and a half kilos. This sheep's milk cheese taste is very intense with a tannic aftertaste and has a light taste of grape's peel. Produced in the territories of this municipality in Sienese area, Pienza's milk sheep's cheese owes its fame to the great tradition handed down during its production phases. A working which exploits Sardinian sheep's milk, partly pastured in the wild.
After its working, cheese is curdled by hand (possibly by adding lactic ferments and bovine curdle) then left to season in special oak big barrels for at least ninety days.
Tuscan DOP sheep milk's cheese has a very old tradition, since many authors testify its production in the whole region and also in all Siena province. It has a cylindrical shape with flat faces with a diameter varying from 15 to 22 cm. With a barely convex side face, its height is between 7 and 11 cm. Anyway the side face must never be higher than the diameter's half. Its weight ranges from one to three kilos. The rind is yellow with heavier shades for the soft paste cheese. The paste is white with yellowish shades in soft sheep milk's cheese, while it's yellowish in the tough one. The taste, on the whole delicate, is typically a bit spicy. Produced in all region area it distinguishes itself for a maturation at cellar temperature, varying from 20 days for the soft cheese to at least four months for the tough one.
Marzolino, produced in the territories of Lucardo, Barberino Valdelsa, Montespertoli, Certaldo, San Gimignano, and in general in Valdelsa, is a soft paste cheese deriving from ovine. Having a white cream colour with yellowish shades, its scent is strong and its taste is delicate. Typical qualities of the Marzolino. The taste, in particular, is due to the ovine's special food, which find typical local herbs in the pasture, giving the cheese a unique taste. The preparation technique is peculiar, too, during which the cheese, after the curdling, is wrapped in a hemp cloth and hung for about 24 hours under a temperature always constant for the fermentation and the drying. After this phase the product is hung 50cm. high to get the right humidity level. For eight days it is constantly turned upside down and refined with olive oil. Marzolino is left here for about a month-one and half month, until the right level of softness is obtained.
Prodotto realizzato all'interno del Progetto di Valorizzazione dell'agroalimenatare senese 2009 promosso dalla CIA di Siena e cofinanziato dalla CCIAA di Siena.

CLICK HERE FOT THE ITALIAN VERSION
Informazione pubblicitaria